Unleash The Power Within seminar van Tony Robbins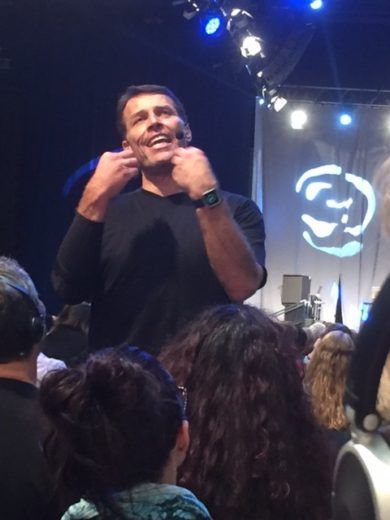 Hoe je in
een 'peak' status komt zodat je zonder blikken of blozen acties uitvoert die je spannend vindt als ondernemer.
Vorig weekend was ik op het Unleash The Power Within seminar van Tony Robbins in Londen. 8.000 mensen uit meer dan 60 landen in één zaal.
Het idee, daar alleen naar toe te vliegen, alleen in een hotel te logeren, met al die mensen in één zaal, vond ik …. meer dan spannend.
Naast ondernemer ben ik ook moeder van 3 zonen en nog nooit langer dan 1 nacht weggeweest. 🙂
Mijn coach, Cindy Vranken, had mij uitgenodigd om mee te gaan. We waren er met een groep van 10 ondernemers en …. wat was het geweldig, freaking awsome!
We leerden onder andere hoe je bijvoorbeeld je huidige 'state of being'  kunt veranderen in een 'heartbeat'.
En zo leerden we allemaal in die status te komen zodat we over een mat met hete kolen kon lopen. "The Firewalk."  Ik zag de kolen opvlammen en smeulen en wilde direct vertrekken.
….ben toch niet gek, dacht ik.
Maar eenmaal vóór de mat met smeulende kolen, aangemoedigd door de andere 8.000 mensen, toegeklapt en toegezongen… kwam ik weer in de status van: dit gaat lukken.
Ik roep de lef-modus op en liep.
En haalde de overkant.
Zonder blaren.
Die lef-modus helpt je ook zonder blikken of blozen acties uit te voeren die je spannend vindt als ondernemer.Zo gaf ik bijvoorbeeld vorige maand 11 webinars en het blijft altijd spannend: werkt alles goed, ben ik niets vergeten? 

Voor ik start met het webinar moet ik altijd even de moed bij elkaar rapen. Dan ren ik een paar keer de trap op en neer om energie kwijt te raken.
Met de lessen van Tony Robbins weet ik volgende keer wat ik zelf kan doen om in die lef-modus te komen!
Hoe kom je in zo'n 'peak state?'  Mijn video's zijn veel te wazig om te tonen, dus ik heb er een paar gezocht op Youtube voor je. 

Je kunt ze hier bekijken:
Tony Robbins On How To Instantly Change Your Mental State
Comments
comments